Da The Guardian:
Language barrier and a president determined to land – theories swirl over Polish air disaster
Pilots' lack of Russian led to tragedy says controller as technical problems with plane ruled out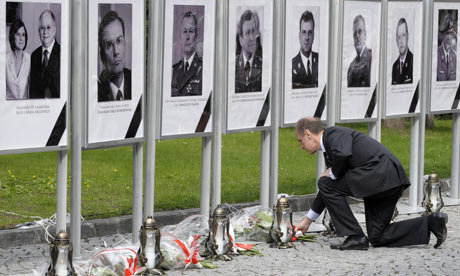 Language problems between Russian air traffic controllers and Polish pilots, and pressure from high-ranking plane passengers, may have contributed to the crash on Saturday in which 96 people – including the Polish president – were killed, it was revealed today.
The Russian air traffic controller Pavel Plusnin – who was the last person to talk to the crew of President Lech Kaczynski's Tupolev 154 before it crashed – said he had difficulties understanding the crew who he said spoke poor Russian.
"Numbers were hard for them so I could not determine their altitude," he told a Russian news portal. But Poland's former prime minister told the Guardian he thought Kaczynski – who was determined to reach Smolensk where he was due to attend a memorial service on the 70th anniversary of the Katyn massacre – may himself have contributed to the accident by pressuring the pilots to land in dense fog.
The former social democrat prime minister Leszek Miller said: "The president had wanted so much to be there. The pilot knew this and so they accepted the risk and in the process they lost everything," he said. He said Poland would struggle to replace the victims, who included dozens of senior officials. "When people die, it's often said they're irreplaceable," he said. "But in this case I really believe it is going to be very hard to find people to take the places of these talented people."
Accident investigators have ruled out technical problems in the 26-year-old aircraft which crashed into dense trees, and yesterday said human error was to blame. Poland's chief prosecutor Andrzej Seremet said from initial interviews held with air traffic controllers, investigators had "concluded there were no conditions for landing". The plane tried to land despite being advised by air traffic control "not to do so" he said.
Seremet added that flight recordings would be listened to closely to determine whether the pilots came under pressure from the presidential entourage to continue with the landing. But he stressed "at present there is no such information". As investigators continued to probe the cause of the accident, an increasing number of Poles were asking how so many senior figures – including the country's entire military chiefs of staff, the head of national security, the head of the national bank, many of the government's top advisers and 18 MPs – had been allowed to travel on a single aircraft.
"How is it possible that all these top people came to be travelling on the same plane?" military expert Wojciech Luczak said. Acting President Bronislaw Komorowski, a member of prime minister Donald Tusk's centrist Civic Platform (PO) who had been expected to beat the rightwing Kaczynski in October's scheduled presidential election, moved yesterday to start replacing some of the officials who died in the crash.
"The first task I am going to set for the new National Security Bureau chief is a review of the rules for travel of top military officials," he told reporters. Meanwhile, in Moscow the process of identifying the remaining 95 bodies continued. Only 14 bodies had been immediately identifiable after the crash. Most of the other victims had been too badly charred and are being identified through DNA testing. Nine bodies are still missing. Polish military planes were due to be dispatched to Moscow to bring back the victims' bodies by Thursday at the latest. Kaczynski's body, which was returned to Warsaw on Sunday, will lie in state in Warsaw from today until a state funeral is held on Saturday, possibly as a joint service for all 96 victims.
Polish workplaces observed a minute's silence yesterday, while many of Warsaw's school pupils were allowed to visit the presidential palace to sign books of condolence.Komorowski, the interim president, said he wanted the funeral, which is due to be held on Warsaw's Pilsudski Square, to be an "expression of national unity".