Dal Guardian del 22 aprile il òpunto su8lol'Expo di Shanghai, dove son o attesi 70o milion i di visitatori.
Shanghai 2010 Expo is set to be the world's most expensive party
Seventy million visitors will attend China's six-month event that has cost an estimated $45bn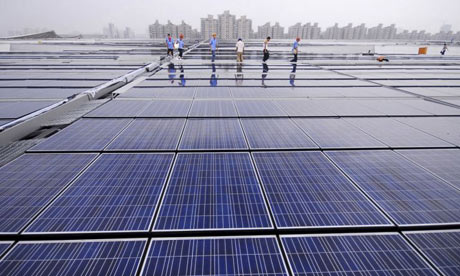 It is the biggest and most expensive party to which you have ever been invited, and almost certainly the oddest – with buildings shaped like rabbits and apples, Copenhagen's Little Mermaid on show, and violin-playing robots to serenade you.
You have probably never heard of Shanghai's 2010 Expo and are still less likely to attend. But from 1 May, the city will welcome an estimated 70 million visitors to the $4bn (£2.6bn), six-month event, as hyped in China as it is unknown outside it. Wen Jiabao, the country's premier, has described it as the fulfilment of a 100-year-old dream.
It has prompted a city-wide makeover that has cost an estimated $45bn – more than Beijing's pre-Olympics transformation. In a matter of weeks the city has unveiled three subway lines, a new airline terminal and a revamped waterfront. The facelift for the latter, the historic Bund, alone cost $700m.
Even by China's frenetic pace of construction, the speed has been incredible – Pan Haixiao, an urban planning expert at Tongji University, estimates that without the event the changes would have taken three times as long.
An army of workers is still racing to lay out pavements, plant mature trees, roll out turf and install public art around the city. At the Expo site itself, which spans 5.28 sq km on both banks of the Huangpu river – covering the equivalent of almost 1,000 football pitches – hundreds more toil to finish multimillion-pound pavilions.
Shanghai is holding the biggest Expo ever as it attempts to resuscitate the once-grand tradition of international gatherings that began with London's Great Exhibition in 1851, gave Paris the Eiffel Tower and drew tens of millions of Americans to the landmark world's fairs.
"They were the entertainment event of the year wherever they took place," said Professor John Findling, author of the Encyclopedia of World's Fairs and Expos, who suggests they had the kind of impact the Olympics do today. In their heyday, he points out, they were not competing with television, theme parks or the internet.
"Visitors were anxious to see people from exotic places, the latest in science, invention and fine art, and to enjoy themselves … There was nothing else in the way of amusement that was like it," he said.
These days, few could recall recent hosts – such as Aichi in Japan – and the events have less razzmatazz and a more earnest tone. Their purpose "is to allow a global dialogue on important issues facing the international community," said Vicente Gonzalez Loscertales, secretary general of the Bureau International des Expositions – the world's fair equivalent of the International Olympic Committee.
But few outsiders believe that the opportunity to discuss urbanisation – this year's theme – is why 192 participating countries are laying out jaw-dropping sums. Instead, they point to the thousands of companies hoping to cut lucrative deals and find new customers.
"It's the 21st century equivalent to the old tribute to the emperor – we've all always had to pay to play in China, but wind-up clocks and oompah bands are old hat so now we have to build pavilions, sponsor things, cut cheques to official charities," argued Paul French of the Shanghai-based consultancy Access Asia.
For the hosts there is at least as much at stake. Professor Anne-Marie Brady, a political scientist at the University of Canterbury in Christchurch, New Zealand, described the expo as a stimulus to Shanghai's development but also a "campaign of mass distraction".
"The hoopla surrounding it is aimed at helping Chinese people feel positive about their country and how it is developing, distracting them from other, more depressing, issues such as unemployment, the cost of living, official corruption and incompetence, access to good healthcare [and] escalating house prices," she said. "In China today, the non-political is in fact deeply political."
There is certainly excitement among many residents. Two hundred thousand people attended a trial run and even on cold, drizzling weekdays inhabitants gather to peer through the 10-foot-high wire fence towards the distant Chinese pavilion.
"We have waited 150 years for the chance to hold the expo in our country. Now we have succeeded in two big events: the Olympics and this," said 77-year-old Wang Xinghua. "I feel even happier when people from other countries come to visit – it represents China standing up in the world."
The mood at the site was not entirely harmonious. Moments after Wang strolled away with his wife, stocky plain-clothed security officers marched away a dozen vendors offering souvenir snaps. On Tuesday state media reported that police had detained 6,000 people during their fourth pre-expo crackdown in less than two months.
As officials step up security, new restrictions range from banning kite-flying near the site – and model aeroplanes across two provinces – to halting the sale of knives at supermarkets.
And as before the Olympics, campaigners warn of a crackdown on dissidents, activists and petitioners – including some of the 18,000 households whose homes were bulldozed to make way for the site. The Chinese Human Rights Defenders network says it has documented six cases of people being sent for re-education through labour for expo-related reasons this year alone, in addition to detentions, questioning and harassment.
"The expo is nothing to do with us. The big businesses earned most of the money, and corrupt officials; money doesn't get to us or the nation and they stop us selling on the streets," grumbled migrant toy-seller Huang, 60, who said he could not afford to visit the expo. Although registered residents have received free tickets, standard entry is 160 yuan – a hefty sum when last year's average urban disposable income was only 17,175 yuan.
Nearby, Song Mi, 47, expected officials to clear away her sugarcane cart in case it gave visitors a bad impression – and probably rightly, she thought.
"I'm counting down the days until the expo opens. I want to see everything," she said. "It's the biggest thing that's happened in my lifetime."
Most expensive Saudi Arabia. With a reported budget of $164m it includes imported date palms and a 1,600 square metre cinema screen – roughly a quarter the size of a football pitch.
Most innovative Britain (pictured below). Nicknamed the dandelion, it is pierced by 60,000 Perspex spines, each containing a seed, which sway gently in the breeze.
Most elegant Poland. The delicate, lacy exterior is inspired by traditional paper-cutting; the interior will offer daily Chopin recitals.
Most varied F
inland. It promises a sauna for VIPs, occasional visits from Santa Claus and innovative technology from Nokia.
Most imposing China. At 63m tall, it is three times the height of other pavilions. Though China is the first developing country to host an expo, the size of the building underlines its status as a world power.
Most symbolic Macau. The rabbit-shaped building, crouching in front of the Chinese pavilion, is precisely 19.99 metres high – to represent the date of its return from Portugal's hands to China.
Most futuristic Japan. The weirdly-shaped lilac "silkworm island" uses holes and horns to control the temperature and boasts violin-playing robots.
Most patriotic North Korea. A large flag decorates the exterior and it contains a 4.5m model of Pyongyang's 170m Juche tower and it has video presentations including Korean War footage.
Most dramatic Canada. Organisers have collaborated with Cirque du Soleil and promise exciting .