Dal Guardian del 29.9.2010:
Gay film festival attacked by masked Islamic protesters
Members of the Islamic Defenders Front threaten to burn down Jakarta venue if screenings continue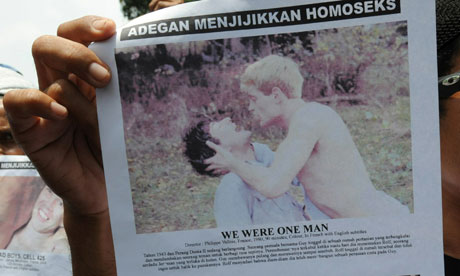 A protester against the Q! film festival holds a placard featuring gay films Photograph: Adek Berry/AFP/Getty Images An international film festival celebrating gay cinema was yesterday
targeted by masked Islamic hardliners in the Indonesian capital, Jakarta
.
The protesters, members of the Islamic Defenders Front, chanted homophobic slogans and accused organisers of the Q! film festival, now in its ninth year, of blasphemy,
threatening to burn down a venue if screenings did not halt
. The event, which is being held at foreign cultural centres in Jakarta, opened last week and was scheduled to run until Wednesday night. It aims to raise awareness of gay issues.
Festival co-founder and director John Badalu told the Jakarta Post he and his team were committed to running the festival according to schedule. "We're still going to go on," he said. However, organisers admitted last night that they had been forced to cancel some screenings.
Showings at the Goethe Institute German cultural centre, which was being guarded by police, would continue, said Dinyah Latuconsina, the centre's programme assistant. But staff at the French cultural centre and the Japan Foundation said they would not be showing any further films.
In the past, the Islamic Defenders Front has smashed bars, attacked transvestites and targeted other groups it considers blasphemous with bamboo clubs and stones.
Indonesia
, a secular country of 237 million people, has more Muslims than any other country in the world. Though most are moderate and oppose violence, a small extremist fringe has become more vocal in recent years.
Badalu said previous incarnations of the festival had attracted little in the way of protest, but suggested that increased publicity surrounding this year's event might have fostered the unwanted attention.