Dal Guardian del 6.9.10:
Iran steps up campaign against activists and lawyers
Women's rights activist goes on trial accused of 'waging war against God', as lawyer for another activist is arrested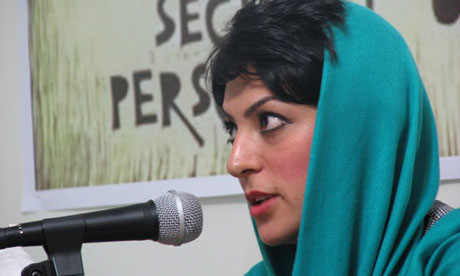 Iran has launched a fresh crackdown on human rights activists by arresting an outspoken Iranian lawyer and charging a young activist with "waging war against God", a crime punishable by death in Iranian law.
On Saturday Nasrin Sotoudeh, who has represented several political activists and protesters arrested in the aftermath of the disputed presidential election last summer, was arrested and charged with "propaganda against the regime" and "acting against national security".

Nasrin Sotoudeh Her husband, Reza Khandan, said Sotoudeh was recently warned by Iranian intelligence officials that she would be arrested if she continued to represent Shirin Ebadi, the Iranian Nobel Peace prize laureate and human rights activist who left Iran a day before the election. Ebadi's Tehran office was ransacked and her belongings confiscated last year.
Ebadi, who now lives in London, said Sotoudeh had been representing her in three cases, including one against the government newspaper Keyhan, which recently called Carla Bruni-Sarkozy "a prostitute" over her support for Sakineh Mohammadi Ashtiani, an Iranian woman sentenced to death after being convicted of adultery.
Ebadi said the latest moves were intended to send a message to human rights activists that "they have to pay a high price if they want to pursue their work in the country".
Shiva Nazar Ahari, a 26-year-old women's rights activist and a speaker for Iran's Committee of Human Rights Reporters, was put on trial on Saturday amid fears that she faces execution if convicted. The verdict is expected shortly. Her lawyer, Mohammad Sharif, said the charges against his client were based on the "false" allegation that she was linked to People's Mujahideen of Iran, an exiled Iranian opposition groupShe has denied the accusation.
Shadi Sadr, an award-winning human rights lawyer who was forced to leave Iran after the election, said the state was intent on silencing opposition. "In the absence of the media in Iran, lawyers and human rights activist have become the only reliable source of information for everybody and the recent pressure is a clear signal that Iran wants to silence this only existing source," she said. The charge of "waging war against God" – muharebeh – was originally intended to be used against armed gangs and pirates, not human rights activists, she said.
Amnesty International urged Iranian authorities to release both women. "The arrest and trial of human rights activists and lawyers – many of them women – on vaguely worded allegations is about the security forces perpetuating the climate of crisis that followed the 2009 presidential election, the outcome of which was disputed, and provides a pretext for the now year-long campaign targeting human rights groups, activists and lawyers," a statement said.
It continued: "It is a coincidence that one [Nasrin Sotoudeh] was held and the other [Shiva Nazar Ahari] tried on Saturday; it is not a coincidence that both were women; or that both were human rights activists and that they face analogous allegations."
Nazar Ahari and Sotoudeh were both members of an Iranian women's rights movement, the One Million Signature Campaign, aimed at collecting signatures from Iranians opposed to the country's discriminatory laws against women.