Al Jazeera riferisce di fraternizzazioni tra manifestanti e militari dei carri. E' successo a Tahrir Square, al Cairo, ed è successo a Suez.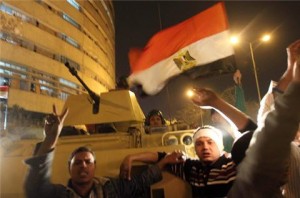 Ecco le scene riportate:
"Some 2,000-3,000 people thronged around a military vehicle near Cairo's Tahrir square, a Reuters witness said. They climbed on it, shaking hands with the soldiers, and chanted: "The army and the people are united" and "The revolution has come".
"In Suez, the site of the strategically crucial canal, armoured cars deployed in front of the charred remains of a police station, a Reuters witness said. Dozens of protesters climbed on the military vehicles in Suez. They talked to soldiers who attempted to wave them off".
Intanto i primi bilanci parlano di probabili 20 morti, 11 solo a Suez. E di migliaia di feriti: 1030 al Cairo, 170 a Suez.
Al Cairo è presidiato il Museo Egizio, ricchissimo di tesori archeologici.
Si moltiplicano le voci di famiglie legate al rais che preferiscono abbandonare il paese.