T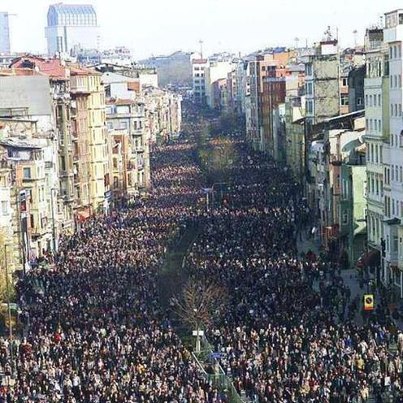 housands of people have rallied in Spain and Portugal in protest at spending cuts and tax rises in the debt-hit countries.
In Madrid, public sector workers from all over Spain blocked the capital's Plaza de Colon square and nearby roads.
Protests were held in Lisbon and across Portugal (sopra una foto di Lisbona sabato), with one person reportedly attempting to set himself on fire.
The Spanish and Portuguese governments say the austerity measures will lead to economic recovery.
'Drastic reduction'
Many of the protesters – including teachers, nurses and firefighters – were ferried to Madrid in buses by trade unions and other workers' rights groups who organised the rally.
In Lisbon, protesters clashed with riot police outside the parliament building
The crowds chanted anti-government slogans, blew whistles and waved banners that read "Enough!" and "They are sinking the country!"
"There is no area of my work which has not been affected by the cuts," a 52-year-old doctor from Valencia, who only named himself as Jorge, was quoted as saying by Reuters.
"It's a drastic reduction in the quality of service for patients, it's terrible," he said, adding that his own salary had shrunk by about 30% because of the austerity measures.
But the government of Prime Minister Mariano Rajoy insists that the cuts are necessary to save the eurozone's fourth largest economy.
"These sacrifices are absolutely unavoidable if we are to correct the difficult economic climate we are experiencing," Economy Minister Luis de Guindos said.
"We are laying the foundations for a recovery," he added.
In July, the government announced a 65bn-euro (£60bn; $80bn) package of public sector wage cuts and tax rises – part of a deal with eurozone leaders to help rescue Spain's troubled banks.
Madrid has also accepted a loan of up to 100bn euro loan for the country's banks and is set to announce a further series of economic reforms by the end of September.
In Portugal, big rallies were mostly incident-free in Lisbon and Porto but, in the capital, tomatoes were thrown at offices belonging to the IMF and there were reports of scuffles between protesters and police.
In the northern town of Aveiro, one demonstrator was taken to hospital after trying to set himself alight in protest against government policies, reports say.
Portugal's RTP television quoted firefighters as saying his life was not in danger.
Portugal has already cut public sector wages and raised taxes to reduce its budget deficit and deal with its economic crisis.
The country agreed a 78bn-euro bailout deal and recently passed the latest review of its spending cuts.
For many, the last straw was an announcement a week ago that employees will pay sharply higher social security contributions from next year, even as employers' contributions are cut, says the BBC's Alison Roberts in Lisbon.
Even prominent figures in the ruling parties have come out against a measure that would seem to hit the poor at least as hard as the rich, our correspondent says.