Barbara Elsas e Linda Finkel-Talvaldkar. Due insegnanti americane guidano idealmente la protesta contro le armi facili negli Usa. Le trovate ogni lunedì di fronte alla Casa Bianca, portano cartelli contro le armi, cantano We Shall Overcame.
Barbara è una maestra d'asilo, il suo piccolo regno sono i bambini della Little Red Playschool a Palisades.
Linda Finkel-Talvadkar è una dirigente di una scuola di Brookline.
Insieme manifestano dal luglio scorso, la strage per Batman nel cinema Aurora di Denver (Colorado). Da 27 settimane sono lì a Washington, ogni lunedì.
Cosa dicono?
Oggi sono tornate con un manifesto con su scritto: "E' troppo facile acquistare una pistola in Usa, dobbiamo cambiare tutto questo".
«Succedono cose orribili, andiamo in strada, sfiliamo con le candele, cantiamo, poi ciascuno torna a casa»,dicono però lamentando la mancanza di azioni politiche.
La loro azione cozza con un tabù. Provate a scrivere il loro nome su Google. A parlare di loro sono siti europei (molti tedeschi) e pochissimi americani, un pezzo sul Los Angeles Times, un altro sull'Huffington Post,  pochissimo.
Eppure a queste due insegnanti andrebbe riconosciuto un grande merito.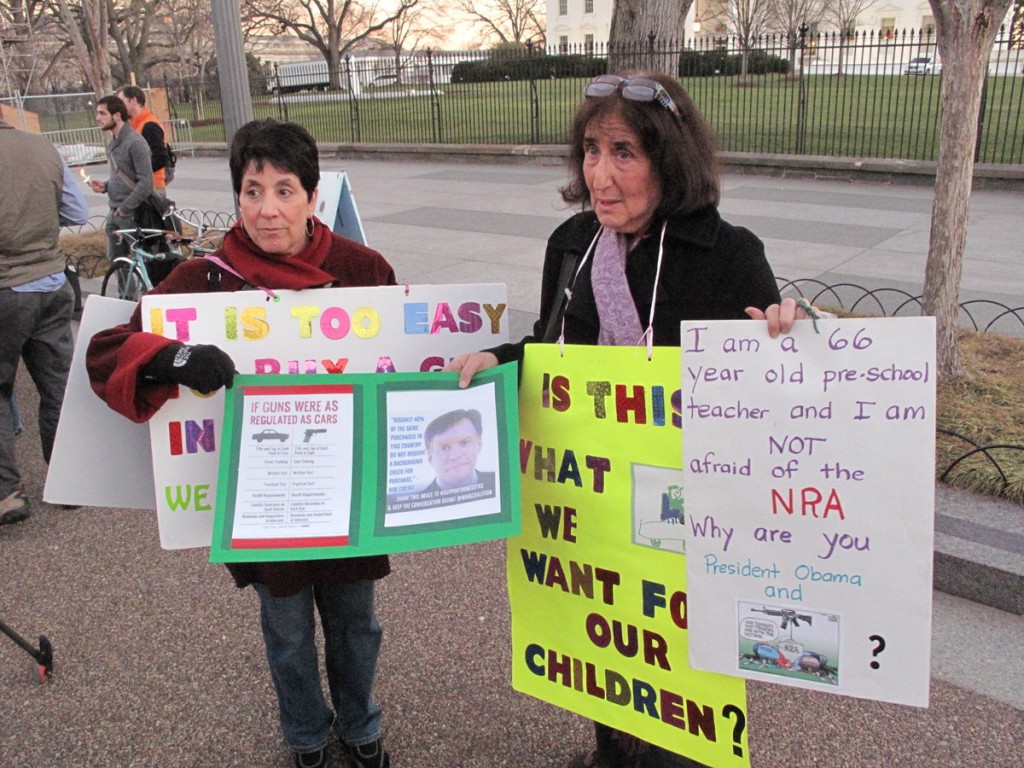 Ecco qui di seguito dall'Huffington Post:
Barbara Elsas and Linda Finkel-Talvadkar, both of whom identified as "children of the '60s," regularly set up camp outside the White House on Mondays and talk to passersby about the need to urge politicians to revisit gun laws. The two women, along with a handful of others, said they've been doing this ever since the July shooting spree in Aurora, Colo.
"We are constantly here," said Elsas, who runs a preschool in Washington, D.C. "We talk to people and we educate people. We try to change minds one person at a time."
The two women were easy to spot in the crowd: Both were wearing large, colorful signs with messages like, "It Is Too Easy To Buy A Gun In The U.S.A — We need to change this!!" Elsas said they got involved in gun control advocacy because they kept hearing about people getting killed in shootings and said there wasn't much of a sustained public response.
The only time people talk about gun control is when things "happen like this," said Elsas, motioning to the mourning crowd around her. "Then everybody comes out and holds a candle and sings, 'We Shall Overcome.' That's wonderful, beautiful. I'm here to do that, too. But what about tomorrow?"
"What are they going to do the next day? And the next day?" chimed in Finkel-Talvadkar, a former high school principal.
(Qui sotto Barbara Elsas)