Al Jazeera nella Terra dei Fuochi:
The toxic wasteland of Italy's 'Campania Felix'
Years of illegal toxic waste dumping by criminal syndicates caused environmental ruin in once fertile Naples region.
Isabell Zipfel | 28 Jan 2016 13:37 GMT | Environment, Italy, Europe, Crime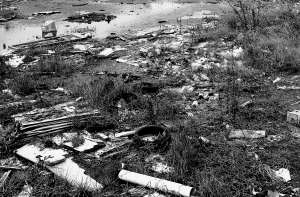 Naples, Italy – It has been known as the most fertile area in Campania, Europe's vegetable garden. The Romans called it "Campania Felix" – the fertile countryside.
But now, the area north of Naples and south of Caserta is known as "Fireland" or the "Death Triangle". Since the late 1980s, toxic waste has been transported here from all over Europe, and either hastily buried or left to lie under the open sky. Industrial companies, to avoid the high disposal costs of special waste, hired the Camorra, a mafia-type organised crime syndicate, which offered to dispose of it very cheaply and haphazardly.
An estimated 11.6 million tonnes of toxic waste is buried or burned beneath vegetable fields, in quarries or on open land in the area around Naples, according to officialfigures, although locals think it could be much more. Highly toxic industrial waste such as dioxin, arsenic, and even radioactive material can be found in the area.
According to one study by The Lancet, the cancer rate in the cities and towns in the "Death Triangle", which are home to millions of people, lies way above the national average.
The problem of the illegal disposal of toxic waste is not just regional or even restricted to Italy. Some of the toxic substances buried by the industries of the north return there in the form of food, points out researcher Hans N Pfeiffer in his book. The "Campania Felix" is one of Italy's most important fruit and vegetable suppliers and the products grown here are sold by big supermarket chains throughout Europe.