Ricacciati tutti indietro, ne l campo lager di Idomeni. Secondo il Guardian 2500 migranti siriani sono stati spinti a riattraversare il fiume fangoso che ieri avevano superato per entrare in Macedonia.
Il reportage da Idomeni: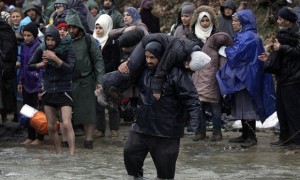 Macedonia forcibly returns thousands of refugees to Greece
Desperate scenes on border as authorities send exhausted men, women and children back to Greek camps they fled a day earlier
Thousands of desperate refugees who had made a dramatic push into Macedonia– bypassing its sealed border by wading through the freezing waters of a river – were forcibly returned to Greece on Tuesday amid heightened tensions between the two countries.
As Athens and Skopje engaged in a war of words over the episode, hundreds of exhausted men, women and children began streaming back into the muddy, waterlogged camp they had sought to flee barely 24 hours earlier.
"They hit everyone – women, children, men – and said 'you are going back'," said Halad al-Hassan, 32, from Raqqa, the Syrian city overrun by Islamic State militants last summer. "People are very shocked, too shocked to even want to speak," he sighed, shaking his head in disbelief. "I've been here in Idomeni for 27 days. It's very bad, very cold, very unbelievable. Why does Macedonia do this? Why has Europe closed the borders?"
Dazed youngsters, blankets strewn across their shoulders against the biting cold, walked around aimlessly as charity workers – many having worked through the night – strove to cater for the estimated 2,500 people pushed back into Greece.
Save the Children described how Macedonian authorities began sending people back in trucks, dropping children off shivering, wet and disorientated.
"Some people collapsed by the roadside and needed medical attention on the tarmac and those that made it back to the camp faced a night out in the open, with rain starting to fall around 4.30am," the organisation said. "Up to 600 people remained stuck in the other side of the river."
The abortive "march of hope" appears to have been triggered not only by conditions in the camp that have deteriorated by the day but an Arabic-language leaflet encouraging refugees to take fate into their own hands.
The document, purportedly distributed by activists on Monday, provided a map and instructions on how best to breach the border, crucially delineating a dry river bed despite heavy rain in the region for the past two weeks. Three Afghan migrants drowned attempting to cross the fast-flowing waters earlier in the day.
With diplomatic tensions on the rise, rumour was rife on Tuesday that German anarchists operating in the camp had been behind the flyer. Bild, Germany's mass-selling newspaper, pointed out that it was signed Kommando Norbet Blüm after the country's former labour minister. The octogenarian Blüm spent a night last week in Idomeni, camping out in solidarity with the refugees.
Aid groups insisted that a growing sense of desperation – matched by the increasingly deplorable conditions of a tent city that houses up to 14,000 people and stretches across several fields – was to blame for the show of defiance. Many people have been left stranded at the camp for almost a month since Macedonia shut the frontier in response to similar moves by other Balkan and eastern European countries farther up the migrant trail.
"Such is the hardship here that it gave them some sort of hope," said Babar Baloch, a spokesman for the United Nations refugee agency at the camp. "If all legal routes are blocked, as they are with the closure of borders, it allows other elements to exploit the situation and thrive," he said, referring to people smugglers promising alternative routes to freedom who have flocked to Idomeni. "Conditions in this place are not fit for humans."
Visiting the camp on Tuesday, the European Union's top migration official, Dimitris Avramopoulos, urged refugees to ignore ruthless smugglers, saying: "By following the legal path, they will be able, one day, to live under better conditions."
He said it was urgent that the EU immediately implemented plans that had been previously agreed to relocate refugees. "I would like from Idomeni to send a message to Europe for everyone to show solidarity … all our values are in danger and you can see it here."
Denouncing the decision of some states to erect barbed-wire fences across their borders, he told reporters: "We have a migration policy, an action plan against smugglers, and I call on all member states to start implementing [it]. Our target is, and will be, to relocate 6,000 people a month in cooperation with Turkey, which is very important, a major stakeholder."