Attacco di Anonymous ai siti israeliani per protesta per Gaza. Da Cnet del 17.11.12: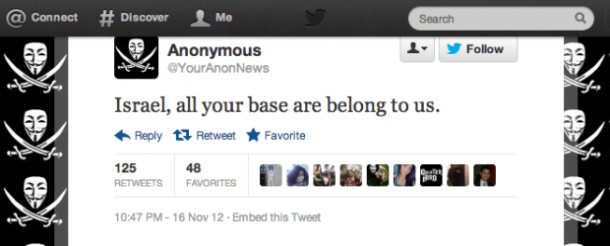 Anonymous targets Israeli Web sites in protest over …
Anonymous targets Israeli Web sites in protest over Gaza
The hacking collective knocks the Bank of Jerusalem offline and attacks the site of the Ministry of Foreign Affairs. Anonymous claims nearly 700 sites have been affected
By Charlie Osborne November 17, 2012
Anonymous is in the midst of a hacking campaign against a number of Israeli sites in protest of attacks taking place on Gaza.
The hacking spree, dubbed OpIsrael and begun early Thursday, has resulted in so many Israeli Web sites being defaced or shut down through methods including denial of service (DoS) attacks, that it's hard to keep count. However, some enterprising hacktivists have beguncompiling lists of affected Web sites. Targets have included governmental, retail, and business sites — some belonging to the automotive and fashion industries.
The Bank of Jerusalem, one of Israel's largest financial institutions, has received particular attention from the hacktivists — as the cyberattackers crowed on Twitter about deleting theorganization's online database. Access to the bank's Web site has been spotty. Trying to access it yesterday afternoon resulted in nothing more than a database error, and though the site reappeared, it seemed to be offline again this morning.
Israel's Ministry of Foreign Affairs Web site also appeared on Friday to have been attacked and its database either deleted or tampered with. The Web site seemed to be back up and running this morning.
According to the latest list from Anonymous, 663 sites have been affected.
Some of the file dumps contain what look to be the full names, e-mail addresses, and passwords of Web site users, stolen from breached databases.
A press release from Anonymous says that when the government of Israel publicly threatened to sever all Internet and other telecommunications into and out of Gaza, "they crossed a line in the sand." The statement continues: "As the former dictator of Egypt Mubarack [sic] learned the hard way — we are ANONYMOUS and NO ONE shuts down the Internet on our watch."
Anonymous finished with a stark warning to government if it persists in trying to cut telecommunications and Web links. In addition, the collective said that unless attacks cease, the Israeli government "will know the full and unbridled wrath of Anonymous. And like all the other evil governments that have faced our rage, you will NOT survive it unscathed."
In a move that separates OpIsrael from many other campaigns, the hacktivists have put together a downloadable "care package" for residents of Gaza in the event that the Israeli government's promises come true and Internet connections are severed. It contains information on evading IDF surveillance as well as basic first aid data. In addition, Anonymous wants to make clear that it is not a "terrorist organization," by stating that the hacker's mission is to "protect the rights of Palestinian people who are threatened with silence…. We know what happens to victims of oppression when the lights go dark."
As the BBC notes, while Anonymous enjoys its hacking spree, the Israeli Defense Force has begun a campaign of its own — a game called IDF Ranks which rewards frequent visitors to its blog, and content sharers, with different badges and virtual military ranks. The Web site says this is to fight "misinformation" concerning the IDF and Israel. On Wednesday, the Web site began a live link documenting the attacks on Gaza.
A slightly different version of this story originally appeared on ZDNet under the headline "Anonymous takes on Israeli websites, wipes Jerusalem bank."