Anche l'Huffington Post Usa pubblica oggi 30 aprile un servizio su Benetton, mostrando una seconda immagine Agence France Presse (nell'immagine) in cui si vede una camicia col marchio Benetton tra le macerie dell'edificio tessile di Dacca che è crollato il 27 aprile causando oltre trecento morti (ma il bilancio non è ancora definitivo). L'0altra foto è di Associated Press. Silenzio ancora in Italia sulla questione. Ecco l'Huffington Post che smaschera Benetton, che ha cercato di negare i suoi legami con la fabbrica tessile (altre marche coinvolte, l'inglese Primark e la spagnola Mango):
Benetton Denies Ties To Deadly Bangladesh Factory, But Its Shirts Were Found In The Rubble: Quartz (PHOTOS)
Quartz |  By Zachary M. SewardPosted: 04/29/2013 2:59 pm EDT  |  Updated: 04/29/2013 4:40 pm EDT
Benetton, the Italian fashion line known for provocative marketing campaigns advocating progressive causes, has denied any ties to the garment factory in Savar, Bangladesh, that collapsed last week, killing at least 377 people. "None of the companies involved are suppliers to Benetton Group or any of its brands," the company said on April 24.
But evidence is mounting that Benetton clothing was indeed being manufactured at the factory, known as Rana Plaza. Photos taken at the scene by the Associated Press and Agence France-Presse clearly show shirts with "United Colors of Benetton" labels. That's the AP photo above, and here is AFP's documentary evidence: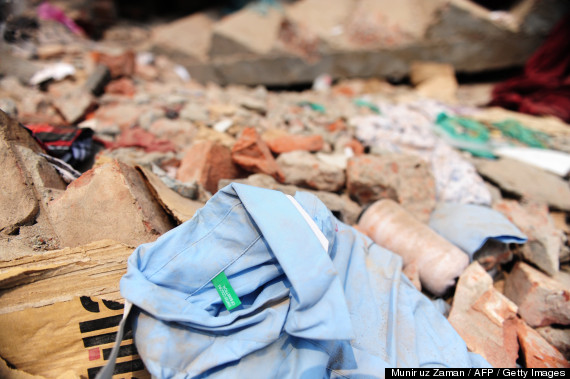 A shirt with a Benetton label lies in the rubble three days after a Bangladeshi garment eight-story building collapsed in Savar, on the outskirts of Dhaka, on April 27, 2013. Police arrested two textile bosses over a Bangladeshi factory disaster as the death toll climbed to 332 and distraught relatives lashed out at rescuers trying to detect signs of life. (Munir uz Zaman / AFP / Getty Images)
Benetton didn't respond to emails and calls seeking comment. Its Twitter account has been silent since tweeting the company's brief statement of denial four days ago. (Update, April 29, 2013: In a new statement after the photographs emerged and this story was published, Benetton said, "A one-time order was completed and shipped out of one of the manufacturers involved several weeks prior to the accident. Since then, this subcontractor has been removed from our supplier list.")
More From Quartz.com:
— A Chinese sportswear company has trademarked Michael Jordan's sons' names
— If MBAs are useless, we're all in big trouble
— How to use technology for development in three simple steps, and a fourth very difficult one
— China just made it harder to buy a Beamer, Benz, or Bentley
New Wave Bottoms, one of the manufacturers based at Rana Plaza, lists Benetton as a client. Labor rights activists digging through the debris have also said they founddocuments linking Benetton to the factory.
Benetton is hardly the only—or even the largest—clothing company with ties to the factory; America's Wal-Mart, Ireland's Primark, and Canada's Joe Fresh all made clothing there. But Benetton's initial denial and its social activism could make it a bigger target for criticism. The company produces most of its clothing in Bangladesh, which is the world's second-largest garment exporter, after China.
Workers in garment factories like the one that collapsed last week make a minimum wage of 3,000 taka ($38) a month. Working conditions are notoriously brutal and unsafe. The day before Rana Plaza collapsed, large cracks appeared in the side of the building, prompting a bank and other retail stores on the first floor to close. But the garment factories in the floors above stayed open, and the building fell to pieces the next day. The death toll now stands at 377 but is expected to keep rising.
The building's owner, Sohel Rana, was arrested on Sunday by Bangladeshi paramilitary forces as he attempted to cross the border into India.